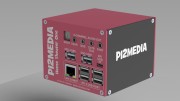 Pi 2 Design has unveiled the newest edition to their catalog of Raspberry Pi based add-ons and products. The PI2MEDIA HT1 is a fully integrated Media Player and Streamer featuring High Resolution 7.1 Surround Sound. At the core of the PI2MEDIA HT1 is the high performance quad core Raspberry Pi® 2 Model B. Running industry standard Open Source Media Center (OSMC) out of the box, the PI2MEDIA HT1 can also boot all Raspberry Pi supported Operating Systems.
Cranston, RI, February 10, 2016 (Newswire.com) - A completely hackable Raspberry Pi 2 media center with surround sound, the PI2MEDIA HT1 offers users the following key features:
Connects to your TV or Monitor via standard HDMI cable.
Internal

mSATA

storage up to 1TB (comes standard with 32, 250 or 500GB).
Comes

pre

-configured with OSMC as the default boot option. (This can be changed at any time via the included 8GB SD card loaded with NOOBS.)
Outputs 24-Bit 96Khz/192Khz High Resolution Audio on all 8-channels
5.1 pass through via Optical

TOSLink

(S/PDIF)
Built-in

WiFi

(802.11b/g/n) with an internal antenna. (Save those USB ports!)

WiFi

streaming to tablets and phones via UPNP/DLNA protocol
Built-in Consumer IR Receiver
Three USB ports from the Raspberry Pi® 2 Model B for connecting extra devices (one is used to connect to the 502SSD)
Two additional USB ports provide up to 1.5A current for device charging, such as

smartphones

, digital cameras, tablets, etc
Compatible with any powered PC speakers or analog amplifier
Completely hackable! Can be reprogrammed to run any

RPi

2 supported OS.
Enclosure is machined from T6061 Aircraft Grade aluminum, with hardened, scratch resistant infrared acrylic front panel (RF and Infrared transparent)
Completely "silent" operation. No spinning hard drives to intrude upon your media experience!
Visit our Indiegogo Campaign to lend your support.
This All Sounds (and Looks) Really Great! But hasn't this already been done?
Well, yes, and no! Most features of the PI2MEDIA HT1 are available in some form or another from a variety of other companies. Roku, Amazon-TV, Chromecast, etc all allow you to stream video from their list of network sources. There are external devices that will take an HDMI source and output 7.1 surround sound. FiveNinjas and others have taken the Raspberry Pi® Compute Module and created integrated streaming and serving boxes. And of course, many, many of you have bought a Raspberry Pi, added OSMC or Kodi and enjoyed the fruits (pun intended) of the Open Source support for the Pi.
But Wait, There's More!
The PI2MEDIA HT1 takes the streaming features of those closed commercial media players, adds the HDMI to surround sound output without an external device and combines it all with the Open Source software and support of the Raspberry Pi community, into one beautiful, compact, low-power, remote controllable, hackable, user update-able, affordable platform! While the default SBC used on the PI2MEDIA HT1 is the Raspberry PI® 2 Model B, planned (subject to change) alternate SBC options include the Odroid C2, which adds a higher performance 64-Bit ARM Quad Core CPU and Gigabit Ethernet, as well as the UP-Board with Intel x86 Quad Core and Gigabit Ethernet.
What else is included?
The PI2MEDIA HT1 offers a true "out of the box" experience. All you need is a power outlet and your favorite TV or Monitor! Each unit ships with:
Fully assembled PI2MEDIA HT1 unit with either a 32GB (Streaming Edition), 250GB (Deluxe Edition) or 500GB (Server Edition) Solid State Drive
8GB Micro-SD Card with NOOBS, set to boot OSMC from SSD
Basic IR Remote Control
12V @ 5A Power Supply with Universal Input for Worldwide operation
Micro-USB to USB-A Patch Cable
3 Meter HDMI 1.4a Cable
Getting Started Instructions
1 Year Warranty with unlimited email technical support
Share: