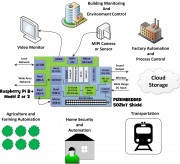 The 502IoT is a professional I/O Shield designed for the low cost Raspberry PI ® (RPi) Single Board Computer Family. This shield provides access to virtually any sensor technology on the market, using the buffered 1-Wire Bus, along with the multiple Grove and PMOD I/O expansion connectors.
Smithfield, April 4, 2016 (Newswire.com) - Pi 2 Design is pleased to announce the recent release of the 502IoT Internet of Things add-on for any 40-pin version of the Raspberry Pi. This includes the A+, B+, RPi 2, the brand new RPi 3 and even the Pi Zero. It was also designed to be compatible with the Odroid C1+, the new C2 (www.hardkernel.com) and the Intel Cherry Trail based Up-Board (www.up-board.org)
The $79 and up 502IoT Shield (Product page) supports sensor-driven IoT gateway applications including home and building automation, HVAC, and security. Other applications are said to include transportation, agricultural automation, factory automation, and process control.
The 502IoT Shield adds to the Pi with I/O including SPI, I2C, analog, digital/PWM and buffered 1-Wire bus. These are accessible via industry standard Grove and PMOD I/O expansion connectors. The shield also provides a second 10/100 Ethernet port, two more USB ports, and an M.2 SSD storage socket. Finally, the built -in wide input (+8V to +24V) power supply powers all peripherals plus the Pi, while also providing up to 2A each for the two High-Retention USB connectors.
The built-in 802.11b/g/n WiFi module will be welcome to owners of the Pi 2 and Odroid boards. For the Pi 3, the external antenna connector provides longer range and allows for mounting the Pi 3 in metal enclosures. Other features include audio out, battery-backed RTC, and a 1-Wire based on-board temperature sensor.
Specifications and Features​
DS1339 Real time clock with 16mm coin cell battery backup
LAN9514 Combo 10/100 and USB Hub provides an additional Ethernet port for gateway and bridging
applications
USB2.0 Type A for additional USB expansion.High-Retention sockets provide 2.1A peak (1.5A continuous) for high power peripherals
PL2571 Controller and M.2 (Next Generation Form Factor) Socket for up to 256GB on-board Storage
GWF-3M08 Module (

Ralink

RT5370) provides 802.11b/g/n
for up to 150Mbps. On-Module IPEX connector allows for optimal antenna placement
Grove I/O Connectors - 4 x Analog (via 8-Channel, 8-bit @188Khz ADC), 4 x Digital (each with 1.562Khz PWM), 4 x I2C and 1 x UART (ideal for

Bluetooth

Low Energy Modules)
PMOD I/O Connectors - 12-Pin SPI with Dual Chip Select and 4-Pin I2C PMOD Connectors
On-board DS18B20 Temp Sensor (under M.2 SSD) w/64-Bit ID plus DS2482S-100 I2C to 1-Wire Controller
24-Bit, 48Khz - 384Khz Audio Out using PCM5102A DAC via RPI I2S Bus
You can see the 502IoT as well as the other offerings from Pi 2 Design at www.pi2design.com. Our online store is now open and can be seen at www.pi2design.com/store.
Share: